Well, it took three days but the new laminate flooring in my bedroom is about finished. The flooring itself is in, but there are still a couple of places that need moulding around the baseboard and the thresholds need to be put in. But I am LOVING this oak floor! It is so much fun to roll around on in my computer chair and I enjoy the new layout of my furniture. I moved the desk to the other side of the room by my window and took the bed out of the corner and placed it up against the wall. The dresser used to be where the desk is now but has been moved to the other side of the entrance to the bathroom. The armoir (which houses stamping stuff) has been moved to the corner where the desk used to be. How much fun swapping furniture. The past few days have been crazy, with all the bedroom furniture in the living room, and stuff in boxes all over the place. Thank goodness most everything is back where it belongs, but Mom and I still have a few boxes to sort through and put crap back where it belongs. But it is so worth it.
Reno did a great job, and he worked LONG hours. He and mom came over Thursday morning, and he worked all day until about 11 pm when he left for a hotel. He came back the next morning, and worked until 11:30 pm or so, and drove the 70 miles back to Satellite Beach. Then came back yesterday, and my God he was here until after 1:00 am this morning! I was glad to hear he made it home to Satellite Beach in one piece. He still has a couple of things to finish, but they are not major, and can wait for him to come back later this week.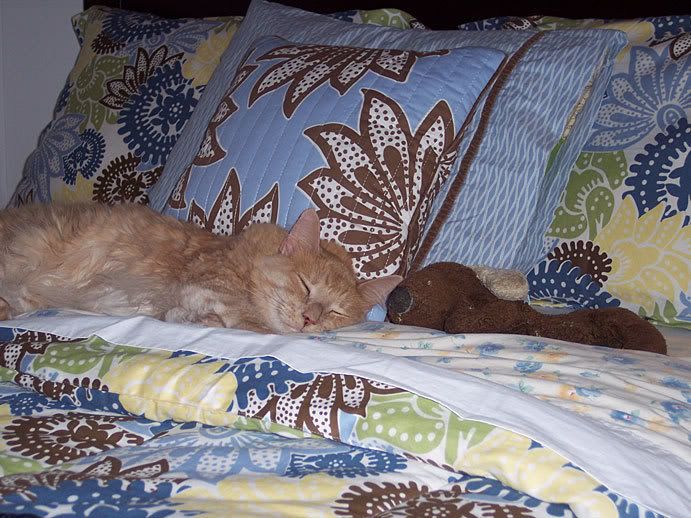 Dexter is happy as a clam now that everything is sort of back to normal. He has been asleep on my bed all afternoon. And Mom put my old stuffed dog "Drooper" on the bed, and Dexter has made friends with him. And just how cute is this picture?