Hey guys, I'm still alive. I've been meaning to blog for a while but time just never presented itself. So I have a few things to show.
I finally finished my "O" quilt a few weeks ago! After a huge hiatus from it due to the biggest disaster in sewing room history (lol just kidding) I got back to work on it and once I got on a roll it only took a few weeks to finish (taking spare moments at night and on weekends). Here's a picture of it basted and ready for quilting:
After it was quilted and the binding attached I spent some hours out on my porch with Dexter stitching the binding to the back (boy that took time) but it was nice to look out at the pond and watch the ducks as I stitched. And of course he had to supervise (don't all cats?)
But after all that work, it was finally done. And I was very happy with it!
It was so late when I finished, but I wanted to take pictures and post on my Facebook. That's why the lighting is so terrible. Sorry bout that!
Also, my boyfriend and I went to Sarasota for the 4th of July weekend, to check out the beaches on the west coast of Florida (I grew up on the east coast in Satellite Beach, near Melbourne, FL). We had a great time, and they had free beach wheelchairs to use! JD pushed me all the way down near the water and set up our little area. The sky was overcast so it never got really hot, although we got sunburned. I am not used to going out in the sun and should have put more sunblock on. Oh well, live and learn. I've finally stopped peeling...yuk! Here's the two of us under our umbrella!
There were adorable terns with black heads everywhere, so I snapped a few pics of them, this one appeared to be posing just for me:
JD had a blast, and has been bugging me ever since to go back to the beach. So this weekend we are planning just a day trip to Daytona Beach, which is just an hour away.
By the way, on the way out of town, I saw this: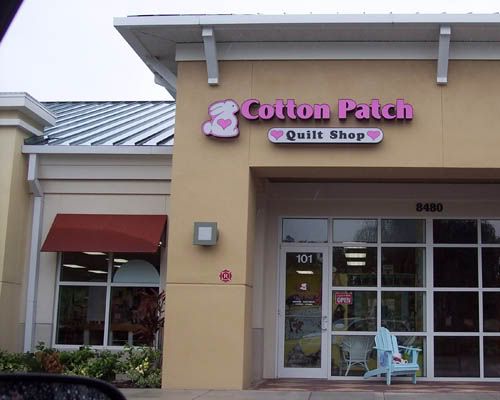 So I just HAD to stop in! And I finally got my Margo Pattern and some fabric to make my first Margo bag (Lazy Girl Designs).
I can't wait to get started. These are the fabrics I chose, all from the Cherish Nature line by Deb Strain for Moda Fabrics. I JUST LOVE THE BEES!!
So yeah, I know I've been gone a long time, but I spend more time thinking about quilting, blogging, etc. and less time actually doing them. LOL Hope everyone is having a fun summer, I feel like I need another vacation already... :)