I spent Thanksgiving at my mom's house in Satellite Beach where I grew up. We went out to dinner for Turkey Day since it was just us and her her friend Reno. Poor mom didn't get the right order and by the time they would have the right dish out to her Reno and I would have been finished! So they comp'ed our entire meal and mom ate off of Reno's plate. He had plenty...
As for my birthday, it was the following Saturday. We were planning on going to EPCOT or Animal Kindom (Disney) but chickened out because we just KNEW it would be a madhouse at the theme parks since it was a holiday weekend. So I just bummed around the house and we went out to dinner at Olive Garden.
My mom made me a birthday cake which we started eating on Thanksgiving. It was white cake with chocolate icing, and she handmade the "bees" that decorated it. YUMMMMM YUMMMMM!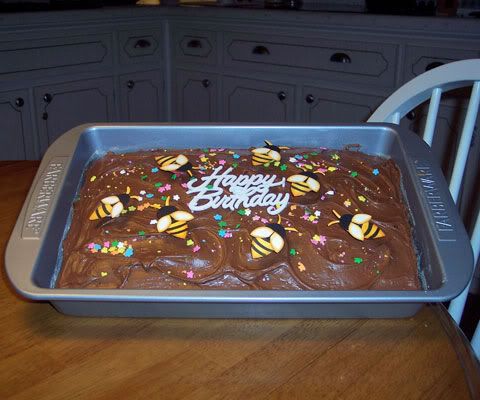 She also made me a couple cards, one from her with a little matching box with M&M's in it, and one "from Dexter" as shown below. I got a couple beautiful sweaters (argyle cardigans from Target) and also Prison Break Seasons 1 through 3 on DVD. I LOVE that show. It is such a great show. Reno got me a cute pair of earrings that I just love. It was a nice quiet birthday, just how I like it. After all, I'm getting older...lol!
Hope everyone had a great T-giving, and has a Merry Merry Christmas!