I know Mother's Day was several weeks ago, but I'm just now getting around to posting the card and gift bag I made for my mom. Sorry for the delay!! LOL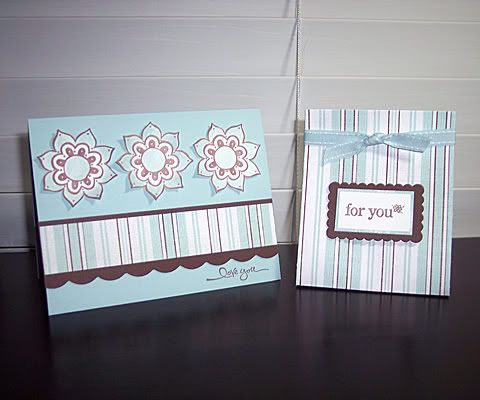 I stamped the floral motif from the One of a Kind set in Basic Brown so i could watercolor it using Soft Sky ink. I did this three times and cut them out, and glued them to the top portion of a Soft Sky card base. I only glued the center so I could curl the petals up. I cut a one and a half inch strip of Chocolate Chip cardstock and scalloped the bottom edge using the corner rounder punch. I cut a one inch strip of the brown and sky stripe pattern of the Afternoon Tea designer paper and glued it to the strip of Choco Chip leaving an 1/8th inch at the top. I glued this strip about 5/8th inch from the bottom of the card base. I stamped "love you" from the Short and Sweet set in Choco chip in the bottom right corner.
For the gift bag, I used the Blessing Mix Box pattern I found on Angie Kennedy Juda's website (see
here
) only I accidentally scored at the wrong places so my bag is shorter and fatter...but still cute. I made it with the same stripe pattern paper as the card, and added a tag to the front with a scalloped rectangle in Chocolate Chip (Mega Punch) and a scrap of the reverse side of the stripe paper and Whisper White. The sentiment is from One of a Kind in Chocolate Chip. The ribbon is Soft Sky Double Stitched Ribbon. Mom loved both the card and bag, not to mention the necklace inside...! Thanks for looking...