Back in the sewing room once again...it has been too long. I've been either sick, tired or too busy to get in there! But today I was all alone since Mom is expecting her brother and my cousin to come into town this evening to visit for my Grandma's 90th birthday on Thursday, and they are staying with her, so she wanted to be there to do some last minute cleanup of her house. So she came over Friday instead of the usual Saturday to help me out and left last night. Free Sunday! But I would rather she be here...
I've had the Wonder Wallet pattern by Joan Hawley (the Lazy Girl Designs DIVA!) for some time but it has intimidated me. Lish over at
25 Weeks Yahoo! group
had as one of the February goals to make six (!!) of these things. Well needless to say I didnt meet that goal...I'm just now getting around to the first! Sigh.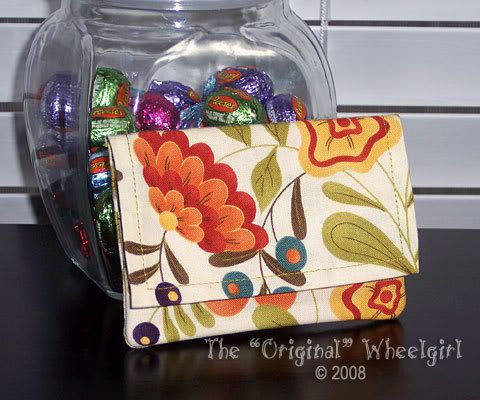 They are pretty quick to make, and this first one I used leftover scraps from my Miranda Bag (see
this post
) to whip it up. Unfortunately I only had a 3 inch strip of the cool stripe fabric, and the pattern calls for larger strips than that. So I only used the floral print and the green leafy print. I had trouble with the bulk, and my velcro doesn't line up! Next time I will save the velcro on the cover until last, since I used the fusible velcro, which totally rules!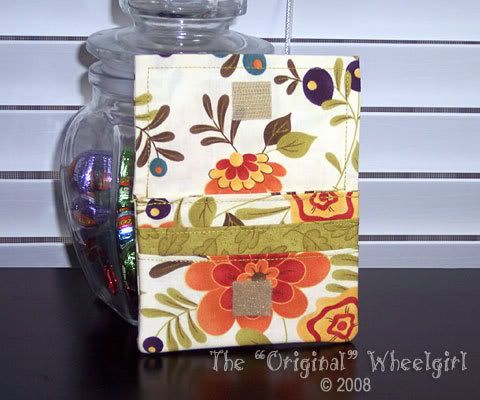 Maybe the next one will be even easier since I've got the steps down pretty well. It is so cute! I also plan on making a matching tissue holder since I have just enough of the pretty focal floral print left. Five more wallets to go...